Smile, you're on camera: Personalisation with Privacy
Smile, you're on camera: Personalisation with Privacy
September 25, 2020
Smile, you're on camera: Personalisation with Privacy
September 25, 2020
How do we leverage technology to answer the challenges of COVID-19? How do we balance guest recognition, speed and personalization with privacy? Why hotels must look beyond facial recognition to personalize journeys end-to-end…
When Apple released Face ID in November 2017, we anticipated that facial recognition would be a game changer for guest authentication, especially in the hospitality industry. However, only 16% of hotels actually leverage emerging technologies. Slow adoption is explained in part by the nature of the industry, where we've always relied on experienced staff to deliver personalized, exceptional experiences, as well as inevitable concerns around guest privacy.
COVID-19 has rearranged our priorities. Guests are growing receptive to camera-based technologies for contactless check-in, and guest behaviors are evolving as the pandemic accelerates adoption of new technology.
Some of the benefits are immediately apparent — facial recognition technology can vastly improve the speed and efficiency of check-in and temperature checks. Concerns however remain. What are the inherent opportunities and challenges of facial recognition? How does it compare with other available technologies? What impact does it have on guest and staff relationships?
Walking the tightrope between privacy and efficiency
Facial recognition technology relies on comparing a scanned image with faces contained in a database and matching them based on facial features and skin textures. At recent tests, facial recognition technology from Japan's NEC Corporation achieved impressive levels of precision with an error rate of 0.5% when registering 12 million people.
The technology grows faster and more accurate every year, and this is especially relevant in the context of COVID-19 with Face ID users now able to unlock their iPhones while wearing a mask. This convenience and efficiency perfectly matches the needs of the busy modern-day traveler: 60% of Chinese travelers have shown a preference for facial recognition technology and a recent study from Booking.com revealed that 75% of customers preferred self-service options to take care of simple requests.
Led by consumer sentiments, hotels are warming up to facial recognition solutions. Marriott properties rolled out facial recognition in China to speed up check-in. Mitsui hotels launched their new Sequence brand, using facial recognition for self check-in and even naked payments, requiring guests to register their facial information before arriving at the hotel. 5-star hotel group Vinpearl deployed the technology last year across 43 properties (17,000 hotel and villa rooms) to check-in within 3 seconds, pay for hotel services and open doors automatically. The efficiency gains are obvious, but this convenience comes at a price…
The hidden costs of facial recognition
1. Who owns my face?
Adoption of facial recognition technologies has revealed a West / East polarity, with the former being more reluctant to adopt the technology than the latter. The predominant concerns are around guest privacy, data storage and security. A major breach was discovered in August 2019 in a biometrics system used by banks, UK police and defense firms. The fingerprints of over 1 million people, as well as facial recognition data, unencrypted usernames, passwords, and employee personal information were discovered on a publicly accessible database. Experts acknowledge that vulnerabilities like these are fairly common, and that the impact can be catastrophic — unlike leaked passwords, users can't really alter their fingerprints or their face.
2. False positives, false negatives
Second, with companies building their own recognition models, the United States National Institute of Standards and Technology revealed a broad variance in the performance of their algorithms. Some have significant (up to 100 times) more errors in certain demographics versus others. They discovered that false positives (ie. the algorithm says that two photos are the same person when, in fact, they're not) are generally higher than false negatives (ie. the algorithm says two photos are not the same person, when, in fact, they are). A false positive error can allow an unauthorized person to enter the room, if the system is used to open doors. Errors like this, even minor ones, can be incredibly damaging for hotel reputation and business.
3. Maintaining systems, maintaining perceptions
Third, adopting a facial recognition system, and generally speaking, any autonomous system, requires high levels of maintenance. In the 140-room Henn na Hotel in Nagasaki, more than 50% of the 243 autonomous systems and automations were scrapped last year, just four years after launch.
Maintenance costs aside, there's also the question of perceptions. The image of a facial recognition camera doesn't exactly align with conventional notions of luxury. In curated guest environments, operational technologies are usually controlled, accessible and visible exclusively to staff. Despite its capabilities, we haven't as yet ironed out all the wrinkles when it comes to deploying this technology.
Pairing skilled staff with the right technology
With widespread adoption of facial recognition, we visualize interesting outcomes. When hotels offer similar technologies, the real difference between them will come down to staff capacity to delight guests. In a scenario where robots, interactive interfaces and screens dominate, guests might come to prefer the comfort and empathy of a human face. On the flip side, as guests grow accustomed to the speed, personalization and accuracy of an algorithm, hotels will need to find new ways to equip staff with the information they need to match these rising expectations.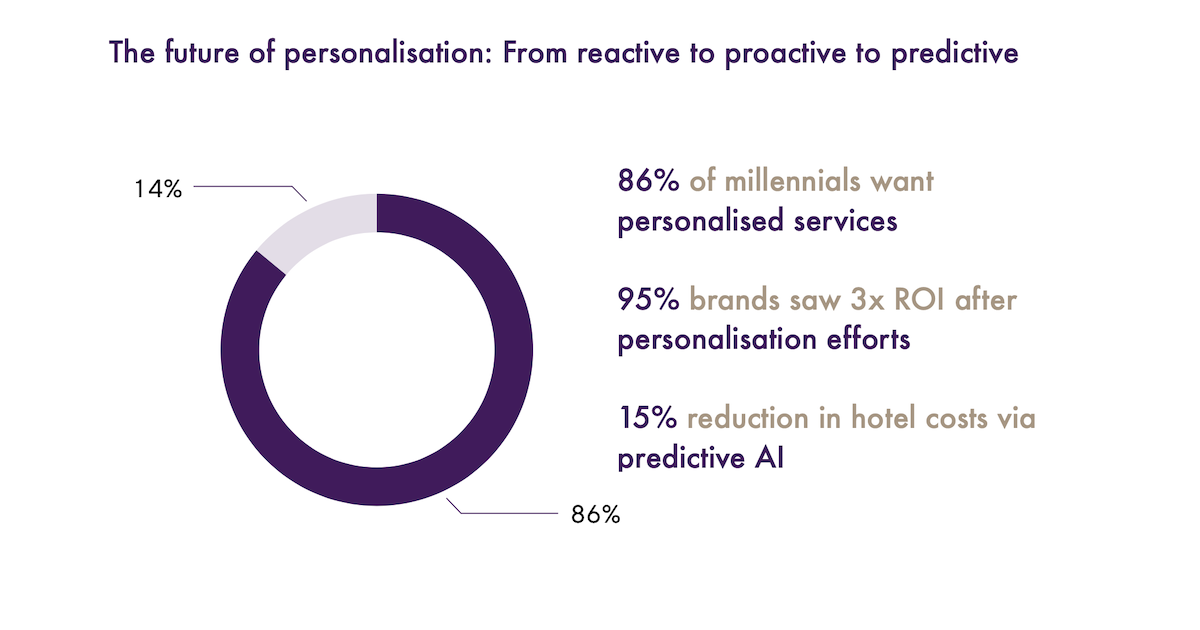 Rising guest expectations are a pervasive challenge across the industry. After being recognized at the check-in kiosk, guests have come to anticipate recognition, speed and personalization at every touch point. Hotel brands that launched recognition programs years ago through their mobile applications, discovered that they only addressed the needs of a portion of guests, their app users, and gaps remained.
It's obvious that simply launching facial recognition or any one-off technology doesn't solve the challenge of guest recognition. Successful deployment leans heavily on staff preparedness and training, with 96% of hospitality executives acknowledging that staff lack the skills and knowledge to leverage emerging tech.
Maintaining a consistent guest experience will hinge on our ability to empower staff with the tools and data to recognize and anticipate the needs of very guest, and this will mean blending technologies with predictive AI.
Recognizing and valuing every guest — at every touchpoint
Facial recognition is only one piece of the puzzle. What happens after express check-in? The good news is that we have technologies at our disposal that can achieve guest recognition and personalization at scale, at a fraction of the costs of cameras.
Long-range connected room keys and AI-powered technologies like Gaia unlock tremendous value, delivering VIP journeys for every guest. Far from replacing people with robots, these alternatives inspire and empower staff to better anticipate guest needs with customized recommendations, to make guest interactions truly memorable, through the entirety of their stay.
Our challenge as hoteliers and technologists is addressing the concerns of every guest, which means offering guests the option to check-in via the channel of their choice. But more importantly, appreciating that guest recognition goes beyond speed at check-in to embrace every touch point, and this means exploring and blending technologies to offer greater consistency and emotional engagement — at every interaction. These are the seamless, one-of-a-kind experiences we like to talk about, these are the journeys that make a difference.
About Gaia Hospitality
Gaia is a real-time staff engagement platform that uses AI to anticipate and act on guest needs to bring safety and generate incremental revenue, ideal for owner-operators who put guests first. Gaia is powered by Neoma, a leading expert in AI based location services working with 30+ clients across Asia and Europe.
www.gaiahospitality.com