Terminal Cure: Reimagining the Future of Travel for the Better
Terminal Cure: Reimagining the Future of Travel for the Better
January 25, 2021
Terminal Cure: Reimagining the Future of Travel for the Better
January 25, 2021
What would you like in an airport of the future?
Better way finding? No waiting? No lost baggage? Walking pace biometric recognition so you never have to hunt for your passport? Or maybe robot assistants?
COVID-19 has meant that airlines are already accelerating towards digital, touch-free experiences. But these 'short-term' updates have a way of creeping into our experience. The changes we make now have the potential to stick.
Looking beyond crisis, there's an enormous opportunity to lay the groundwork for a travel experience that does away with unnecessary queues, that brings the hyper efficiency of AI to security screening and boarding. But even more importantly, one that goes beyond automation to bring travellers comfort and peace of mind.
Immediate concerns: A touch-free, frictionless journey
What's the dirtiest point on your flying journey? It's the touchscreen at check-in, which has 10 times the contaminants of the toilet seat. The toilet seats, as it happens, are pretty clean. Virologists have indicated that COVID-19 can survive on touchscreens for several days at a time, passing between hundreds of travellers as they touch self-service screen kiosks at multiple points in the passenger journey.
An average traveller in an airport touches hundreds of objects. Handrails, elevator buttons, screens, credit cards. Documents, passports and tickets exchange hands. Then there's furniture, taps and doors. A study suggests this number can be reduced by at least 60%, by simply allowing passengers to interact with existing fixed or online infrastructure using a smartphone. How do we do that?
With apps, ironing out technical details does make a difference though (consumers are less likely to hold on to apps with technical issues and battery drainage, even if the rewards are out of this world).
Creating an environment for contactless self-service
In collaboration with our joint-venture partner YATES+, we created SafeGo — an end-to-end digital travel experience from the airport curb to gate and in-flight that provides frictionless and personalised service for 21st century travellers. SafeGo leverages over 20 high-end technologies, spanning Artificial Intelligence, Internet of Things (IoT), facial recognition, location intelligence and cloud-based services to create a guest experience that's entirely contact-free. SafeGo is the only product that offers the end-to-end, contactless guest journey passengers both want and need, supported by a robust technology platform. We've completely digitised the airport and inflight experience.
The SafeGo platform relies on three features —
1. the SafeGo guest app — the SafeGo app or an airline app
2. the SafeGo staff app
3. the SafeGo Host — a kiosk with a display and a camera, which greets you by name and talks to you as soon as you approach it.

So yes, there's a non-human Host.
The goal is to get travellers from curb to gate as easily and quickly as possible so that they don't need to touch any surfaces, a fast track that minimises all unnecessary contact, for a journey that's actually seamless and personalised and integrated. The most important takeaway is that these are changes we're already seeing in airports across the world, deploying technology we have at our disposal today. For airlines this means less pressure on staff, eliminating physical touch points and effective social distancing through speed and efficiency via a tech-assisted fast track.
There's every reason to believe people are more receptive to airline apps rather than many other apps. It all comes down to the level of comfort and convenience the app affords them — and well-designed technology that reassures travellers and safeguards airport staff will be a testbed to explore more seamless journeys of the future.
SafeGo is here to stay, and not just in the aftermath of COVID.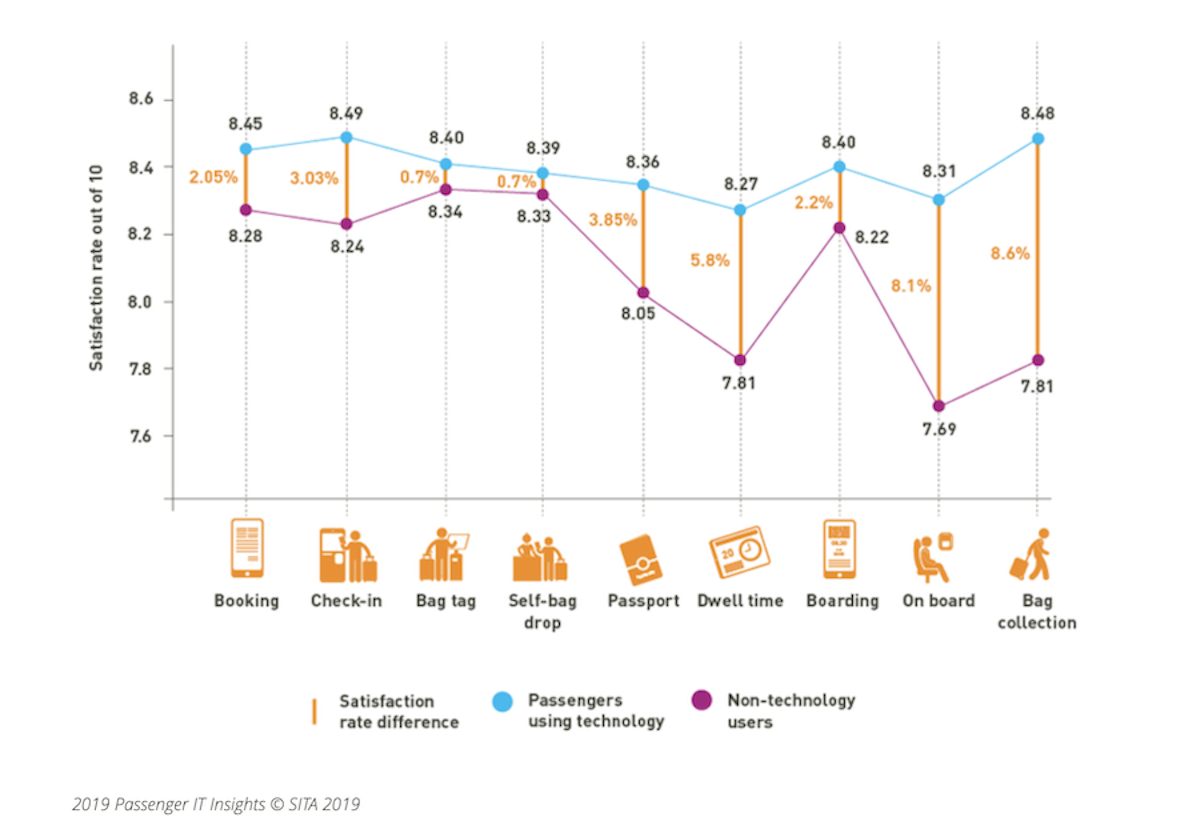 Checkpoints, not chokepoints
Achieving physical distancing in airports is another area we're improving. With streamlined traffic management tools and cost-effective infrastructure to help measure people flow and minimise hotspots of virus transmission.
We are optimistic these changes will make travelling better for everyone, and not just in the immediate impact of the virus. Airports are ecosystems unlike any other, and bring people from around the world together. Technologists across the world are exploring new ways to make flying less stressful — these solutions span everything from contactless tech and biometrics to electronic bag tags and offsite processing.
Delta, for instance, has a fully biometric terminal, with 87% of all outbound Delta international passengers boarding with their face at an average verification speed of 1.5 seconds per passenger. Beijing, Abu Dhabi and Dubai have similar systems too.
Airline travellers who have already used technology like biometrics — even those who have concerns around privacy — are happy with their experience. There's a reason for this — when it comes to very large numbers, technology addresses travellers' needs more efficiently than people do. AI can perform consistently every hour of the day, through the year. AI doesn't have bad days, get tired, bored or distracted.
There are advantages to switching over to technology for many mundane tasks that are usually bottlenecks in the airport system. It takes the pressure off staff, and leaves them free to handle the cases that actually require close attention, and to have more meaningful interactions with customers.
Guest Journeys: Remaining human in the face of upheaval
Travel has already come a long way since the '60s and '70s. When the flights were long, when there was smoking on airplanes, and difficult connections, and hitching rides to distant terminals. COVID has moved forward the business models of airlines by several years. As with online bookings, e-tickets and digital payments — once we're accustomed to the new ways, it will be hard to go back. Travel will get safer, easier, better.
We've worked on reinventing the travel experience from an end-to-end digital experience standpoint. SafeGo helps alleviate passenger concerns in the near-term, but even these relatively innocuous changes are preparing us for journeys of the future. Technology that ages well has always centred on thinking from a guest journey perspective, rather than a purely technology perspective. When the lockdown ends, the first thing people want to spend money on is eating out. The second is travel. It's not all doom and gloom.
To learn more about SafeGo visit www.safego.ai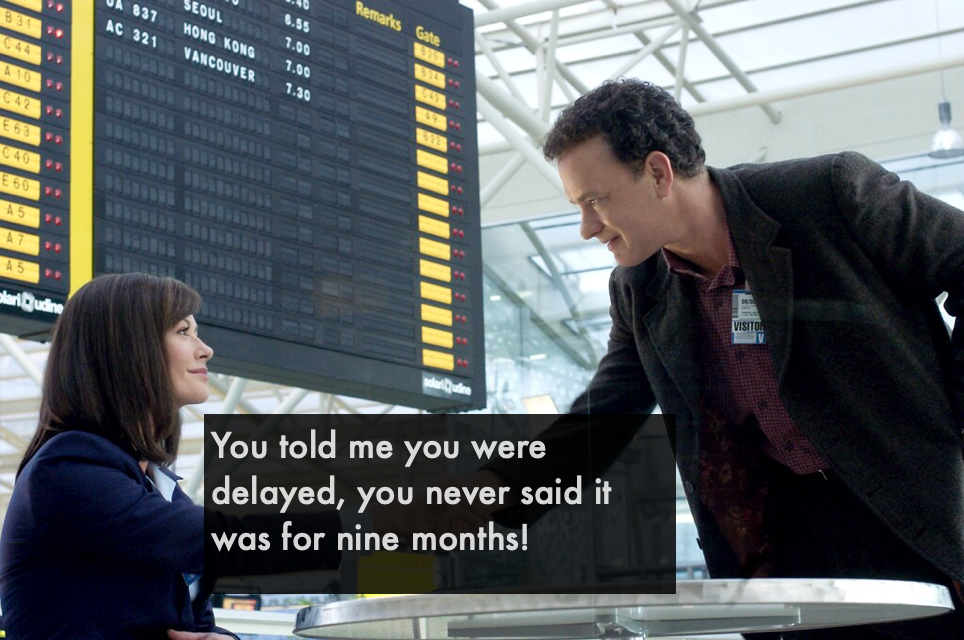 References:
https://airport-world.com/using-technology-to-help-reboot-aviation-in-a-covid-19-world/ Using technology to help reboot aviation in a COVID-19 world
https://www.phocuswright.com/Travel-Research/Research-Updates/2016/Travel-Apps-Make-Big-Gains-But-Hotels-Getting-Lost-in-the-Shuffle Travel Apps Make Big Gains, But Hotels Getting Lost in the Shuffle
https://www.biometricupdate.com/202008/nec-sita-idemia-and-clear-talk-touchless-biometrics-and-seamless-airport-technologies-deployments NEC, SITA, Idemia and Clear talk touchless biometrics and seamless airport technologies deployments
Image Courtesy: The Terminal (2004), Dreamworks LLC